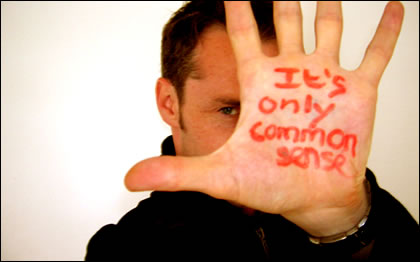 Just lately I've discovered Common Sense Media and am quite impressed with their tools and advice for parents that are soundly based on, well, common sense. Anyone who has read earlier posts on this blog like this one or this one knows that I'm really big on the idea that security begins with don't be an idiot. So I was quite pleased when Common Sense had this featured article by Liz Perle in the Common Sense Newsletter entitled Rules of the Road for Parents in a Digital Age. She had me at the first line: "Even if you're clueless, you're still your kid's teacher".

Common Sense Rules of the Road for Parents

Model good behavior. If we're on our Blackberries or iPhones at dinner, why will our kids listen to us when we tell them to turn theirs off?
Pay attention. We have to know where our kids are going online – and what they're doing there.
Impart our values. Cheating, lying, being cruel – they're all non-starters. Right and wrong extends to online and mobile life.
Establish limits. Phone time, video download time, destinations. There's really a right time and place for everything.
Encourage balance. Get kids involved in offline activities – especially where there's no cell service.
Make kids accountable. If they have a privilege, make sure they earn it.
Explain what's at stake. Let kids know that what they do today can be abused by someone tomorrow.
Find ways to say "yes." That means we have to do some homework and know the sites they visit, the songs they download, etc. – and find ways to use technology that lets us say "yes" more often than we say "no."
It's not rocket science. Learn to text, send a mobile photo, set up a Facebook page, upload a video. Or have your kids show you how. It's impossible to guide what you don't understand. Not only that, but think of all the anxiety you can avoid by knowing how things work.
Lighten up, embrace their world, and enjoy the possibilities together. None of us want digital divides in our relationships with our kids. It's up to us to join the fun and help them seize the potential.
Some great stuff here. I think the main point (well at least the point I'd like to make) is that for a parent being clueless is normal, but staying clueless is not an option. And I'd also like to draw particular attention to #5  (Encourage balance). This is where kids – and parents – discover the actual purpose and utility of the online world. Yeah, that's right – it's way too easy to get caught up in the fiction of  "socializing" online with people we've never met when in fact most of those people are not at all who they pretend to be. And some aren't even people. The point? Social media is a powerful tool to collaborate and stay connected to real people you actually know, but to just be a poser interacting with other posers never accomplishing anything tangible in the real world is not only pointless, but boring. How do I know this? My son Nicholas is an avid gamer and web designer. So he has spent a good deal of time online since he was fairly young. Several years ago we (Nicholas and I) started volunteering for the FIRST Robotics challenge. In the real world. He now helps mentor and judge the web sites for the teams as well as doing crowd control and other jobs at the actual event. This requires collaboration and communication with other volunteers, the teams and challenge coordinators. Nicholas – and I – now have practical experience collaborating via social media with others folks who are involved in doing something that is very real, very tangible and wicked cool. Needless to say neither of us are interested in wasting time gossiping with posers when we can connect with interesting folks doing amazing stuff. Real stuff.
So if you are a parent, think about these 10 rules. It really all comes down to this: If your kids see you not being an idiot and doing cool stuff that's what they will pay attention to. And everybody will get a clue in the process.